Ankara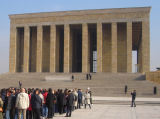 Ankara is the capitol city of Turkey since the Republic in 1923. It's located in the center of the high plateau of Anatolia. The province is surrounded by fertile wheat steppes and few forests, which was the land of the Hittites. Just few hours driving from Ankara, one can visit the Hittite capitol Hattusas to the east, or the incredible lands of Cappadocia to the south.
Ankara is a modern and well organized city. Being at the center of Turkey, it acts as a transportation hub with good air and land connections to other parts of the country. Even in the past, the town used to be an important trading center on the caravan routes to the east. Today, tours for Cappadocia depart usually from Ankara after you fly in and visit a couple of sites in the city.
Some of the important museums or sites of interests of Ankara are; the Anatolian Civilizations museum, the Citadel, the Mausoleum of Atatürk, the ethnographical museum, the Roman baths, the Temple of Augustus, old parliament, Rahmi Koç industrial museum, and so on.
Several hours driving to the south-west of Ankara, there is the city of Konya which is famous for Whirling Dervishes of the Mevlana order, a religious sect from 13th century founded by Rumi.