Izmir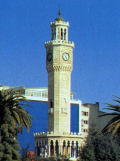 Izmir is the third largest city of Turkey and located on the Aegean Sea. The city is considered as the Pearl of the Aegean because of its history and natural beauties in the environs. It's a modern city with good connections to other major cities of Turkey, or to sea ports in the Aegean, or to many fine beaches and sea resorts. Many cruise ships also visit the city for daily excursions in and around Izmir, such as to Ephesus, Pergamon, Sardis, or Pamukkale.
Ephesus to the south is about one hour drive from Izmir and has incredible ancient ruins, such as the Roman city itself, the foundations of the Temple of Artemis, the House of Virgin Mary, the Church of St. John, Aquaducts, and so on. You can visit these sites at the best in company of a professional tour guide.
Pergamon is also about one hour drive from Izmir, but to the opposite direction this time. Great ruins of this ancient Empire include the buildings on the Acropolis offering fantastic views of the valley, and the Asclepion which used to be a mental health center of the history. The Red Courtyard Basilica and the Arcaeological museum also are worth to visit.
Sardis takes approximately two hours drive to the inland. The site has fine ruins of the Temple of Artemis and the Roman Gymnasium, and an ancient synagogue.
Pamukkale is about three hours of driving from Izmir to the inland. The site is famous for its white calcium formations called as "white cascades" or "frozen cascades", and also for the ancient archaeological city of Hierapolis.
In Izmir, you can visit several museums, the fortress, the clock tower, the old elevator, and traditional bazaars with old mosques or caravanserais.
For best beaches or sea resorts near Izmir, we can suggest Çesme, Alaçati, Foça, Teos, Gumüldür, or Kusadasi resort towns.