Istanbul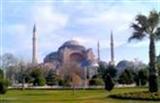 Istanbul is one of the greatest cities in the world which attracts millions of visitors each year. It's also the largest city of Turkey with its 13 million people and counting. With no doubt, Istanbul is the cultural and financial capitol of Turkey. The city was founded on seven hills, like Rome, and on two continents, Asia and Europe, which are separated by the Bosphorus Strait.
The Bosphorus strait is one of the major waterways in the world and strategicaly is very important for being the only passage between the Black Sea and the Mediterranean for international maritime traffic. Every year, tens of thousands of oil tankers and cruise ships are sailing through this passage on their way to the south or to the north.
The Bosphorus is a lovely waterway in Istanbul; its hills are partly covered with forests and its shores are lined up with wooden Ottoman houses, palaces, and fortresses. The best way to enjoy the beauty of the Bosphorus is by taking a ferry ride which goes along the shores of Anatolia and Thrace. A drive over one of the two suspension bridges on the Bosphorus and a typical lunch in a nice waterside restaurant would complete this leisure visit.
Istanbul has also a long history and is full of fine museums, old mosques, Ottoman and Byzantine artifacts, traditional bazaars, green parks and other sites of interest. Here, a professional tour guide can make your day as enjoyable as possible and at the end you can absorb the history and the culture much better than just reading from the guide books. You can easily contact one of the local tour guides and book him/her for your dates in this great city.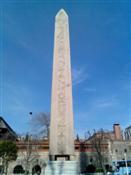 Some of the selected museums or sites of interests to visit while in Istanbul are; Topkapi Palace, Saint Sophia, Byzantine Hippodrome, Blue Mosque, Underground Cistern, Grand Bazaar, Dolmabahçe Palace, Beylerbeyi Palace, Archaeological museum, Turkish & Islamic Arts museum, Kariye museum, Sadberk Hanim museum, Mosaics museum, Rumelihisari Fortress, Süleymaniye mosque, Military museum, Naval museum, Modern Arts museum, Miniatürk, Rahmi Koç Industry museum, Sabanci Arts & Calligraphy museum, Yildiz Palace, Galata tower, Spice market, Eyüp mosque, Sokollu Pasha mosque, Rüstem Pasha mosque, Cafe Pier Loti, and many others.
You can also attend to a Whirling Dervish ceremony which they perform on certain days of the month. Some other interesting districts where you can see local people and life are; Ortaköy, Taksim - Pera, and Nisantasi. Your tour guide can help you sort it out in the best way.