Antalya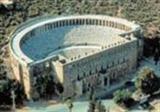 Antalya is located on the Mediterranean coast of Turkey in the south. The area is called as the Turkish Riviera and it's the most famous holiday town in Turkey. Antalya and environs have so many beaches, luxury and theme hotels, natural beauties and national parks, historic sites, and crystal clear sea. Therefore it attracts millions of holiday makers every year.
The city is well connected to other parts of Turkey by an extensive road system and has a very busy airport for international and domestic flights. Also some cruise lines visit Antalya port during their Mediterranean cruise. Most of the tourists coming to Antalya area are Russians, Germans, Italians, Israelis, Dutch, and many other nationalities because of its popularity as the best holiday destination.
Antalya's history is pretty old and covers several ancient civilizations. Therefore the city and its environs don't lack of any archaeological sites. Some of the ancient cities to visit around Antalya are; Aspendos, Perge, Side, Termessos, Phaselis, Olympos, Chimeira, Kekova, Simena, Patara, Xantos, Letoon, Pinara, Tlos, Kas, Kalkan, Aperlai, Myra and Sillyon. Meanwhile, in the city center you can visit the old marina and the walls, wooden Ottoman houses, Hadrian's gate, and a fine archaeological museum. Some of the old wooden houses in the historic marina are converted into small boutique type hotels.
There are several national parks around Antalya city. The Taurus mountain range is very impressive where you can find some ski resorts or go up in cable cars to enjoy the view of the mountains and the Mediterranean. There are also good rafting and mountaineering options nearby.
The city has several culture events too, such as Golden Orange Film Festival, Aspendos Music and Ballet Festival, or Side music festival in the ancient theater. The ballet festival in Aspendos is a unique experience for being organized in a 2000 year-old Roman theater. Your licensed tour guide can give you all the information you need regarding these festivals and how to be a part of it.